Hardwood planks designated as "engineered" are made up of three to five layers of hardwood and materials bonded together under extreme heat and pressure. Engineered hardwood floors are still made up of real hardwood veneers supported by cheaper plywood and combined with particle dust and fibers to increase its' durability and longevity. Because of the method in which engineered hardwood planks are manufactured, they stand up better to humidity changes and moisture in comparison to their solid wood counterparts.
Pros:
Better protected against humidity and moisture changes.
Can be installed anywhere within the home.
Cons:
Manufactured, instead of solid, exotic hardwood.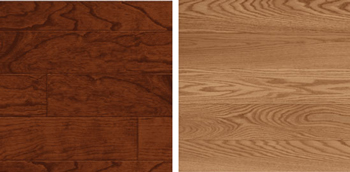 In addition to the aesthetic value, hardwoods, or hand-scraped solid wood provide many significant benefits over traditional carpeting.
Increased home value –
Hardwood flooring is in high demand in the real estate market. In fact, over 90% of the agents polled nationally said homes with hardwood floors, or solid wood flooring sells faster and for more money than homes with standard carpeting.
Reduced maintenance –
Hardwoods are resistant to stains, and look like new with a simple sweep or vacuum.
A healthy choice –
Hardwoods do not collect dust and molds, providing a cleaner living environment for you and your family.
Reduced cost of ownership –
Carpet needs to be replaced approximately every 10 years, while well-maintained hardwood floors will last a lifetime.
We stock and install a huge selection of hardwoods, engineered wood, and hand scraped woods, including traditional looks like Red Oak and Hickory, along with Exotics.
At iStone, you can shop with the confidence of knowing that you will be able to find the right floors at the right price, regardless of budget.
Make sure to contact us for your solid wood floors, as we said we have a proven record in our service.
Call today
for a free estimate and in-home consultation.